Saturday, June 19 at 2pm: "Rethinking Roses" with Peter Kukielski
Kick off the 2021 season at Garland Farm, and celebrate Beatrix Farrand's 149th birthday
In 1916, Beatrix Farrand designed the Rose Garden for the New York Botanical Garden. After it was brought back to life with the generous support of David Rockefeller in the 1980s, it was named in honor of his wife Peggy, who loved roses. Peter E. Kukielski took over the garden in 2006, and was charged with a redesign of the collection. He will discuss the original designs of the garden and why some roses will not work in the garden today, along with his work on the new chemical-free rose garden at the Royal Botanical Gardens in Ontario.
Kukielski is a garden designer and acclaimed horticulturist who was curator of the award-winning Peggy Rockefeller Rose Garden from 2006-2014. From 2016-2018, he created the new rose garden for the Royal Botanical Gardens, Ontario, Canada. Peter's new book, Rosa, The Story of the Rose, is now available through Yale University Press.
---
Thursday, June 24 at 4pm: "Herbaria: Collectively Saving Plant and Fungal Biodiversity" with Barbara Thiers
Celebrate the opening of our 2021 Herbarium exhibit on Maine Native Plants with Herbarium Happy Hour: refreshments at 4pm, Lecture at 5pm
The basic preparation of the specimens that are housed in an herbarium has changed relatively little over the last five hundred years, but the invention of this simple technology was a key innovation in transforming the study of these organisms from a minor subdiscipline of medicine into an independent scientific endeavor. Recent technological advances that facilitate the study of life at both the molecular level and on a global scale can be applied to herbarium specimens to help address some of the most critical problems we face today. New ways of sharing information allow herbaria demonstrate the importance of plants and healthy ecosystems to an audience far beyond the scientific community.
As Patricia K. Holmgren Director of the William and Lynda Steere Herbarium at the New York Botanical Garden, Thiers is responsible for overseeing the Garden's 7.9 million collections of algae, bryophytes, fungi and vascular plants and the approximately 30 staff members who manage these collections. The Steere Herbarium is the largest in the Western Hemisphere, and third largest in the world. It is the world's most heavily used herbaria in terms of the number of specimens loaned or imaged on demand, and the number of visitors to the Herbarium.
---
Wednesday, June 30 at 4pm: "'The Evils of Flower-Picking': Acadia's Plants, Student Naturalists, and a Land Conservation Movement" with Catherine Schmitt
In the 1880s, a group of college students called the Champlain Society spent their summers camping on Mount Desert Island and surveying fauna and flora. Charles Eliot, who later became a landscape architect, organized the society and worked closely with Edward Lothrop Rand, who led the group's botanical work. The pursuit of plants on Mount Desert Island by Rand, Eliot, and their fellow Champlain Society members led to growing concern for the future of nature, inspiring a global land conservation movement that included creation of Acadia National Park.
Catherine Schmitt is a science communication specialist with Schoodic Institute at Acadia National Park. She is the author of several nonfiction books including Historic Acadia National Park and The President's Salmon, as well as magazine and newspaper articles. She has a master's degree in ecology and environmental science from the University of Maine and has conducted field work in lakes, streams, wetlands, and beaches throughout the eastern United States.
Saturday, July 17 at 2pm: "The Earth in Her Hands" with Jennifer Jewell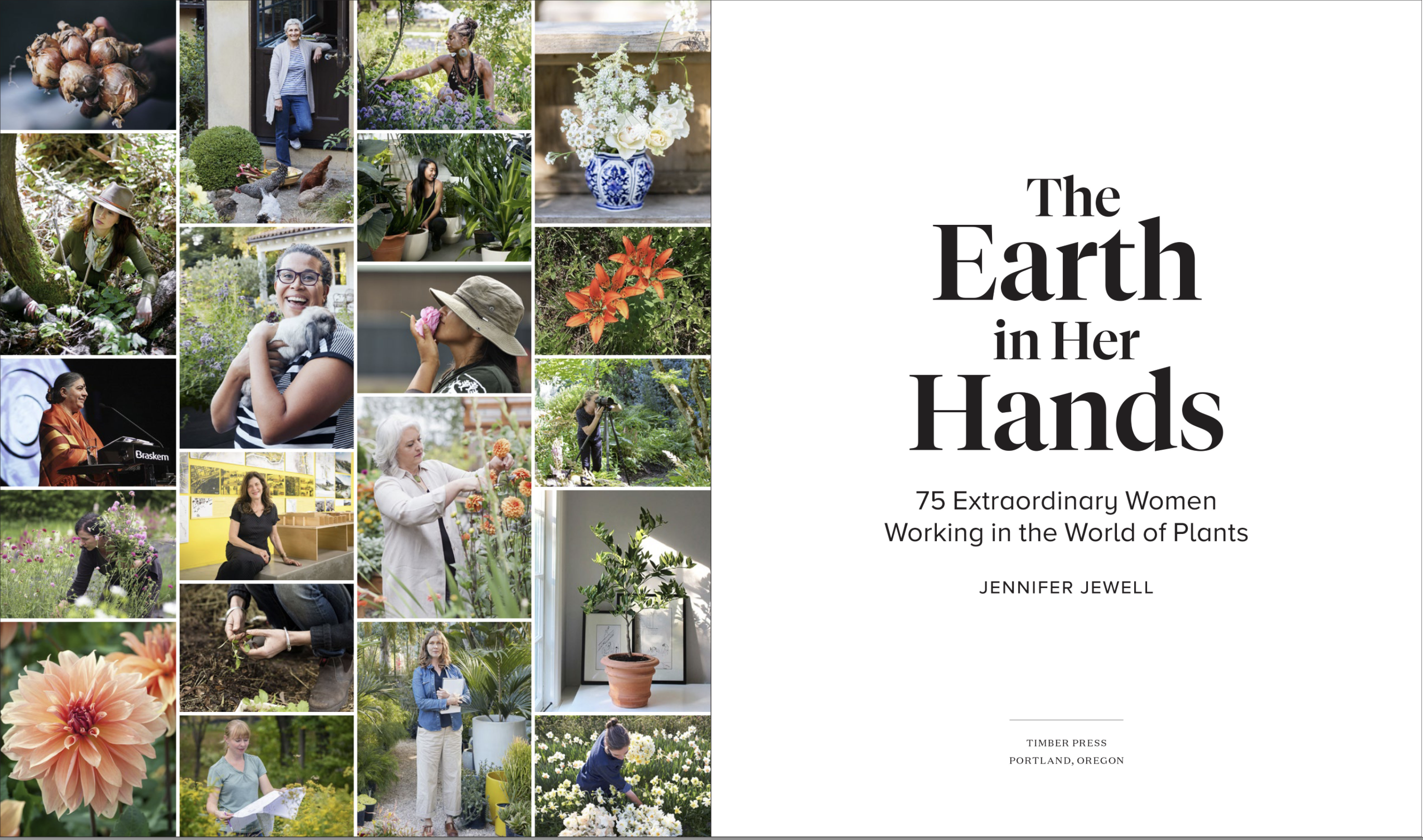 Jennifer Jewell focuses in a wholly unique way on how horticulture intersects with our everyday world and on women whose work has enriched and expanded these intersections in the last 25 years, in this talk based on her recently published book, The Earth in Her Hands: 75 Extraordinary Women Working in the World of Plants.
Jewell will discuss how the plant world is improved by not only greater representation of women generally but also by diversity amongst those women from around the world working in fields including botany, floriculture, agriculture, landscape design and architecture, plant breeding, garden writing, environmental science, and social justice.
Jennifer Jewell is the creator/host of Cultivating Place, an award-winning public radio program & podcast on natural history and the human impulse to garden. Her writing and photography have been featured in publications including Gardens Illustrated, House & Garden, and Pacific Horticulture. From 2010-2017, she was the curator of the native plant garden at Gateway Science Museum on the campus of CSU, Chico in Chico, CA.
To order tickets, visit our online shop HERE.
Wednesday, July 28 at 4pm: "Growing Dahlias in Coastal Maine" with Courtney Locke
Please join Courtney Locke, Coastal Maine Botanical Gardens staff horticulturist and dahlia enthusiast, to discuss the best methods for getting the most flowers from your dahlias in our short growing season. Topics will include planting methods, fertilization and watering techniques, managing common insect and disease hazards, and digging, dividing and storing tubers to help you successfully grow dahlias for years of enjoyment.
Coastal Maine Botanical Gardens staff Horticulturist and Horticulture Volunteer Coordinator Courtney Locke learned to love flowers and gardening as a child while gardening with her mother, a keen amateur horticulturist whose favorite flowers were double peonies, dinner plate dahlias and French lilacs. Prior to joining Coastal Maine Botanical Gardens staff in 2009, Courtney was president of the Bath Farmers' Market for many years and she and her husband owned and operated Apple Creek Farm, a nursery in Woolwich, Maine specializing in peonies, perennials and heirloom herbs. To keep herself in flowers year round, she tends her home perennial gardens to produce ample cut flowers from April through September and during the gray days of winter coddles cymbidium orchids in the windows of her farm house.
To order tickets for this event, visit our online shop HERE.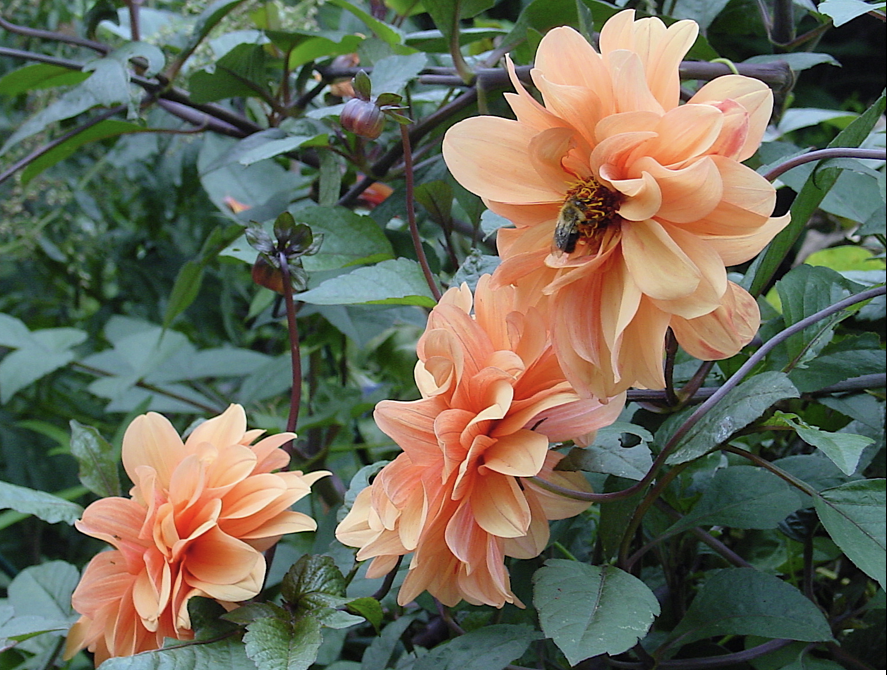 ---
Saturday, August 7 at 4pm: ANNUAL LECTURE: "Restoring the Crowninshield Garden" with Paul Orpello
Offsite: The Holy Family Chapel in Seal Harbor and online via zoom.
Free event
PLEASE NOTE: The Holy Family Chapel is a private venue that requires proof of Covid-19 vaccination. Please bring your vaccination card (or picture of your vaccination card) along with photo identification for entry into the facility.
Paul D. Orpello, Director of Gardens and Horticulture, Hagley Museum and Library in Wilmington, Delaware, will be sharing a lecture on the miraculous road to recovery of The Crowninshield Garden, Hagley's Italianate garden built in the 1920s upon the ruins of Eleutherian Mills. He will be sharing the landscape's history and inspirations, its unique design origin compared with contemporary landscapes, its ruin period, the restoration, and the Italian gardens he visited for research. Paul will also touch on the overall design process so far, discussing the research synthesis and conceptual design, and next steps in the garden's future.
Orpello oversees horticulture across Hagley's 235 acre historic property, home of the birthplace of the DuPont Company and the first American du Pont family residence nestled along the Brandywine Creek. He is an expert in Landscape Design, Sustainable Organic Practices, Landscape Management and Ecological Restoration.
To make reservations for this free event, or to request the live zoom presentation visit our online shop HERE.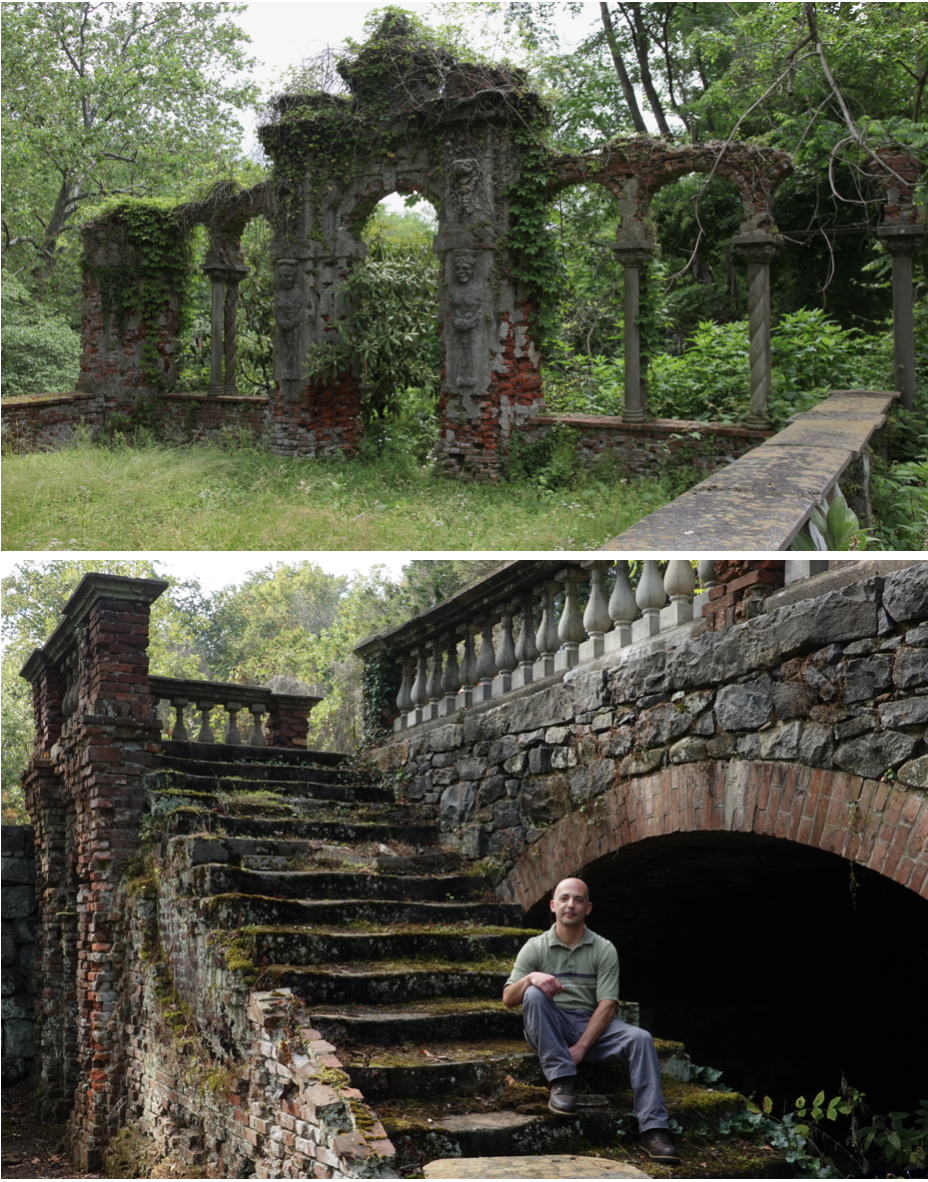 Friday, September 10, 4pm: "Lessons Learned from Building Public and Private Gardens" with Dan Benarcik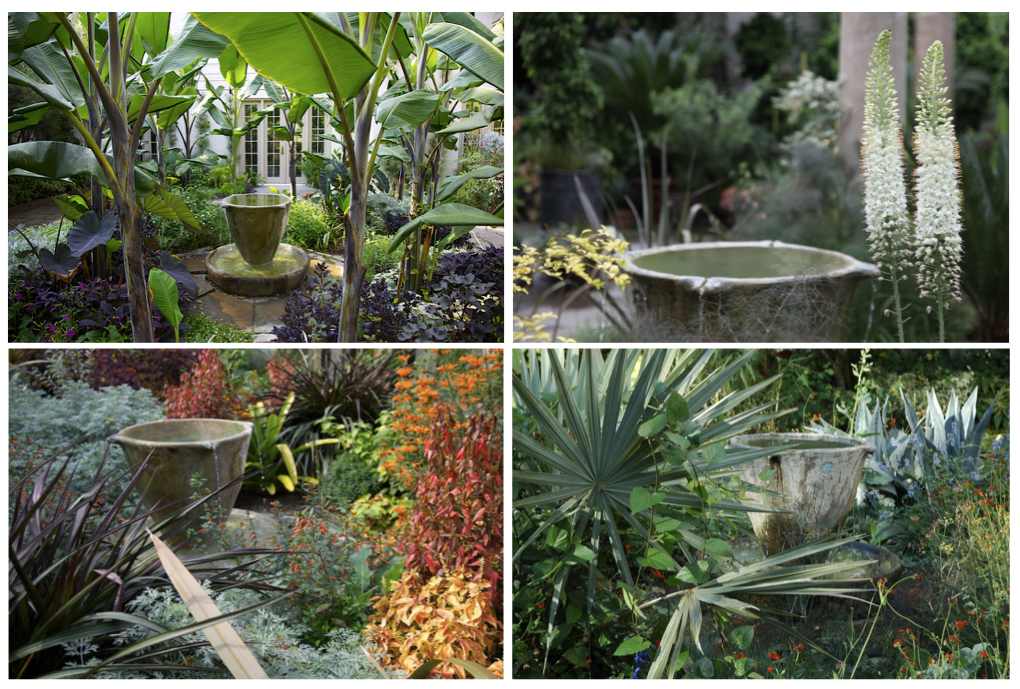 With over twenty-five years of experience, Dan Benarcik has never stopped learning about the living and nonliving entities that together make a complete and compelling garden, and how to adapt to an evolving landscape while keeping it fresh. In this talk, Benarcik will talk about his role as horticulturist at Chanticleer Garden in Wayne, PA, along with his design perspective, his knitting together of furniture, craft, and other non-plant design ideas, and the gardens and styles he tends to create, including his own home garden.
Dan Benarcik started at Chanticleer Garden in 1993 and oversees the Courtyard Gardens, with an emphasis on tropical, sub-tropical, and tender perennials for seasonal display. He is also a public speaker, and serves as the Regional Director of the Garden Writers Association, now GardenComm. His writing has appeared in Fine Gardening, Horticulture, Martha Stewart Living, and Rodale's Garden books.
To order tickets for this event, please visit our online shop HERE.
---
Saturday, September 11, 10 am: "Building a Garden Chair" Workshop with Dan Benarcik
In addition to his planting design and horticultural talents that are on display annually at the renowned Chanticleer Garden in Wayne, PA, Dan Benarcik has developed a reputation as a sought after designer and builder of garden furnishings. His creations can be found throughout the grounds of Chanticleer and in many fine public and private landscapes around the country.
Dan will be coming to Garland Farm to lead attendees through the assembly of their very own garden chairs. Participants are asked only to bring a cordless drill. All other materials including wood, glue, and hardware will be provided and no prior experience with either woodworking, power tools, or carpentry is necessary. This fun and industrious session will yield a finished chair for all who participate.
Space is limited so please book your spot at your earliest convenience. The special admission price is a significant savings over the price of a garden chair purchased and shipped via Dan's website so be sure to take advantage of this unique opportunity!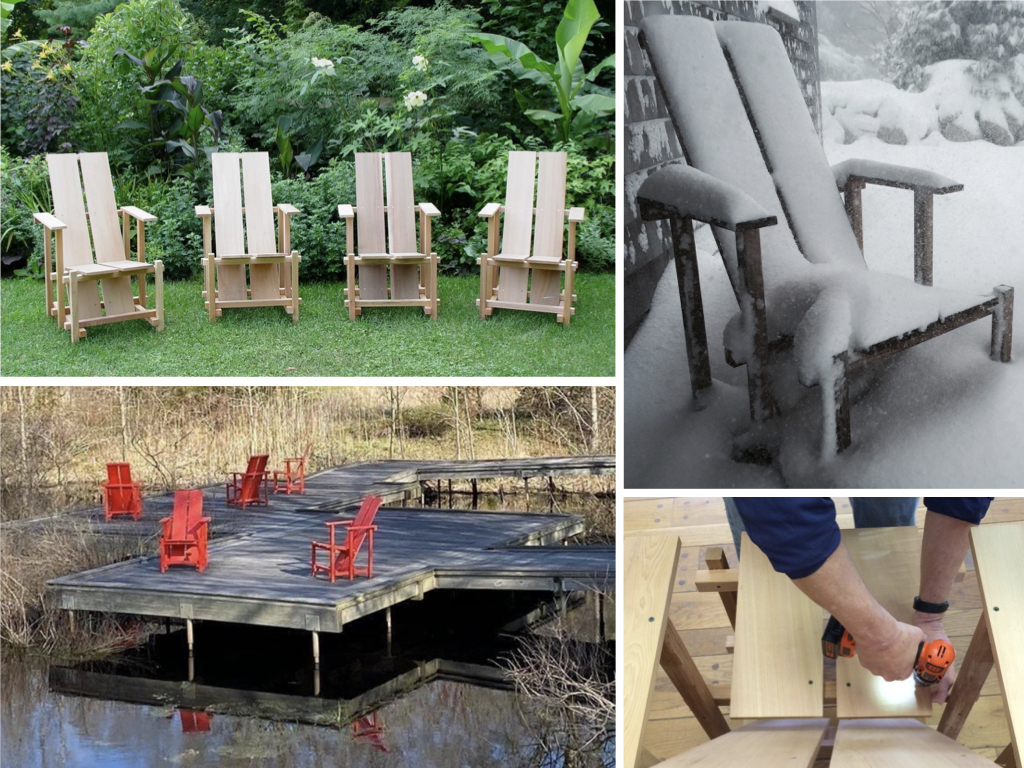 To reserve a spot for this workshop, please visit our online shop HERE.
---
Sunday, Sept. 19, 11 am: "An Appreciation of Mushrooms in Downeast Maine" with David Porter
By any measure, interest in 'all things fungal' among the general public is mushrooming. We want to know more about where mushrooms come from and what they are doing out there. In his talk, Porter will lead an illustrated foray through a jungle of mushroom diversity, touching on common edible species and those to avoid while describing how these organisms are critical to the proper functioning of our forest ecosystems.
David Porter, Ph.D., retired to Brooklin, Maine, after a 38-year career in academics as a professor of Plant Biology at the University of Georgia (now emeritus). Since retiring, he has taught classes at College of the Atlantic and Eagle Hill. He has led various mushroom related outreach programs through the Maine Mycological Association, Maine Master Naturalist Program, Colloquy Downeast, Acadia National Park, the Blue Hill Heritage Trust and Island Heritage Trust, among others.
To order tickets for this event, please visit our online shop HERE.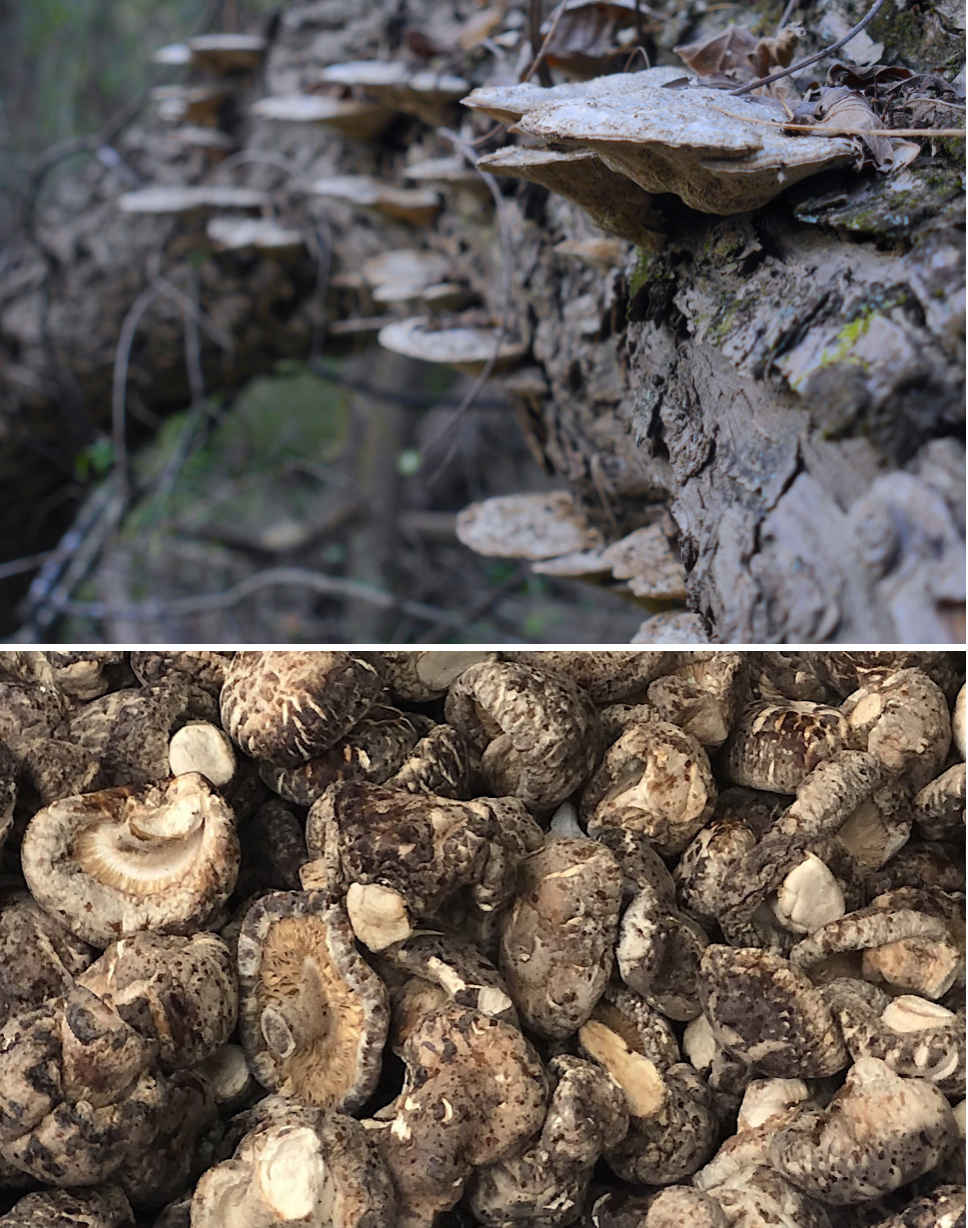 2020 Programs 0
"Native Ferns for the Garden and Woodlot"Dr. Alison Dibble
Postponed until 2021
Ferns bring unique qualities to a Maine garden, and can be featured prominently or serve as a foil for more colorful flowering plants. We will consider five best native ferns, based on aesthetics and ease of culture, and give tips on using them in unusual ways.
---
"How to Arrange Cut Flowers from your Garden"
Emily Henry – THIS PROGRAM IS SOLD OUT.
Tuesday, July 21st at 4:00 pm
Emily Henry, from Chickadee Hill Flowers in Bar Harbor, will be giving a lecture and demonstration about cut flowers. The talk will describe how you can use flowers commonly found in Maine gardens in cut flower arrangements. She will bring some lovely arrangements from Chickadee Hill that will be available for silent auction.
---
"Unearthing Mabel Cabot Sedgwick's Garden Month by Month"
Lucinda Brockway
Thursday, July 23rd at 4:00 pm
Nestled on a Beverly MA drumlin sits a garden legacy ripe for rejuvenation. Started in 1919 and cultivated by two passionate horticulturists, Long Hill's wild garden needed a polish. Not the work of a famous landscape architect nor the artifact of a carefully documented writer, this garden sprang from personal passions for the careful blending of the wild and the cultivated. But how to uncover its details? How to understand its creator's values and vision? How to reveal its very special genius and inspire new gardeners with its stories? Come on the journey of two lifetimes.
PRE-REGISTRATION REQUIRED: $10 for members, $20 for non-members
If you would like to attend in person, please pre-register by emailing programs@beatrixfarrandsociety.org with your name, membership status, and the number of seats you would like to reserve. You can also call 207-288-0237.
To attend virtually, purchase virtual tickets by clicking here. Zoom access instructions will be emailed you.
---
The Beatrix Farrand Society Annual Lecture
"Mary Cadwalader Jones: A Friend in Need"
Dr. Margaret Brucia
Saturday, August 1st at 4:00 pm
Location changed from College of the Atlantic to the Neighborhood House, Northeast Harbor
This talk, enhanced by images, highlights the personality and accomplishments of Mary ("Minnie") Cadwalader Jones, a woman who has remained too long in the shadow of her celebrated relatives—Beatrix Farrand, and Edith Wharton. In 1902, Minnie befriended Julia ("Julie") Gardiner Gayley, then a young New York socialite and later a longtime summer resident of Sutton Island and Northeast Harbor. A close look at the relationship between these two women enables us to see why Minnie was so greatly admired and relied upon as a friend, not only by Julie, but by a host of Gilded-Age luminaries, including Henry James, John LaFarge, Marion Crawford and John Lambert Cadwalader.
PRE-REGISTRATION REQUIRED – FREE ADMISSION
If you would like to attend in person, please pre-register by emailing programs@beatrixfarrandsociety.org with your name, membership status, and the number of seats you would like to reserve. You can also call 207-288-0237.
To attend virtually, register here by "purchasing" a free ticket. You will not be charged. Zoom access will be emailed to you within three days of the program.
---
"The Earth in Her Hands: 75 Extraordinary Women Working in the World of Plants"
Jennifer Jewell – rescheduled for the 2021 season
Jennifer Jewell, the host of the gardening podcast, 'Cultivating Place', will be discussing her new book. 'The Earth in Her Hands: 75 Extraordinary Women Working in the World of Plants' highlights women from around the world working in fields including botany, floriculture, agriculture, landscape design and architecture, plant breeding, garden writing, environmental science, and social justice.
---
The Beatrix Farrand Society Achievement Award & Lecture
Piet Oudolf
Monday, August 17th at 3:00 pm
'The Work and Gardens of Piet Oudolf'
Holy Family Chapel, 29 Main St., Seal Harbor
PRE-REGISTRATION REQUIRED – FREE ADMISSION
THIS PROGRAM HAS REACHED MAXIMUM CAPACITY FOR ONSITE ATTENDANCE, BUT WE HAVE A WAITING LIST. If you would like to be added to the waiting list, please email programs@beatrixfarrandsociety.org. You can also call 207-288-0237.
To participate remotely via Zoom, register here.
Due to developing health guidelines, Piet Oudolf will not be traveling to Maine this season. He will receive the award and participate in a Q&A via live video after a film on his work is shown.
---
"Managing Wild Spaces: Examples from Little Long Pond Preserve"
Tate Bushell
Thursday, September 17th at 4:00 pm
Join Tate Bushell, Natural Lands Director for the Land & Garden Preserve, to learn about ongoing and future management at Little Long Pond Preserve. Since the late David Rockefeller gifted Little Long Pond to the Land & Garden Preserve in 2015 management has expanded to include ecological restoration and research. Tate will present the underlying principles of natural areas management and demonstrate how you can incorporate the principles on your own property, no matter the size.
PRE-REGISTRATION REQUIRED: $10 for members, $20 for non-members
This program is only available by Zoom. Please purchase a ticket by clicking here. Zoom access instructions will be emailed you within three days of the program.
---
2019 Programs
---
---
"SELECTING FRUIT TREES FOR AN EDIBLE LANDSCAPE"
RENAE MORAN
Monday, June 24, 4:00 pm
Renae Moran will talk about the many varieties of fruit trees that can be grown in Maine. She will share her experiences, both good and bad, over eighteen years of testing tree fruits at the University of Maine's Highmoor Farm. After her presentation, she will answer questions about fruit tree care and any other issues in the orchard.
---
"PHENOLOGICAL OBSERVATIONS AND CLIMATE CHANGE"
ABRAHAM MILLER-RUSHING
In lieu of admission for this lecture suggested donations of $10 – $20 are appreciated.
Monday, July 22, 4:00 pm
Abraham Miller-Rushing will discuss how the timing of phenological events, or cyclical natural phenomena, is changing in response to climate change. He will explain what those changes mean for people and ecosystems, focusing on Acadia, and the vital role that gardens have in our understanding of phenology and climate change. Miller-Rushing is the Science Coordinator for Acadia National Park, and he will discuss how you and your friends can participate and contribute your observations of phenology to important scientific research here in Acadia and globally.
---
Annual Lecture
"ELLEN SHIPMAN AND THE AMERICAN GARDEN"
JUDITH TANKARD
Saturday, August 3, 4:00 pm
Gates Auditorium, College of the Atlantic
No admission fee
Ellen Shipman (1869-1950), a contemporary of Beatrix Farrand, was famous for designing lush gardens as well as for training women in her thriving New York City office. During her forty-year career she designed over 600 gardens from New England to the Midwest and the South. Her gardens were renowned for their dense plantings and charming architectural features. Judith Tankard, a landscape historian and preservation consultant, will discuss Shipman's remarkable life and some of her major commissions that have been recently restored, such as the Cummer Museum of Art and Gardens, Longue Vue House and Gardens, and the Sarah P. Duke Gardens.
---
Achievement Award & Lecture
ADAM GREENSPAN
Tuesday, August 6, 4:00 pm
The Turrets, College of the Atlantic
No admission fee
Adam Greenspan is a directing partner at PWP Landscape Architecture and has been the lead designer on a wide range of projects including public parks, campuses, mixed use developments, competitions and estates. Adam's background in studio art and sociology combined with years of horticultural practice as a certified California nurseryperson support an integrated approach to design and allow him to develop projects from many angles. Adam has focused on integrating regenerative processes and ecological function within projects firm-wide as well as deepening PWP's emphasis on living systems and concepts within each project design. He has collaborated extensively with architects, artists, community groups and public and private owner groups, as well as sub-consultant experts, in the process of realizing exceptional built work. He has lectured at various academic and cultural institutions including the University of California at Berkeley; the University of Arkansas; the National Building Museum in Washington, DC; Greenbuild Conference; Cities Alive Conference; Skyrise Greenery Conference in Singapore; Living Futures Conference; and ASLA National conventions. Adam has also served as a guest critic at the University of California at Berkeley, the University of California at Davis, the University of Pennsylvania, and Harvard Graduate School of Design. Adam has served on public art selection panels for the City of San Jose and the City of Santa Monica. He is the immediate past president of the Landscape Architecture Foundation, and he holds a BA, with honors, from Wesleyan University and a Masters in Landscape Architecture from the University of Pennsylvania. Adam's recent projects include: Glenstone, a museum and 230-acre art and nature park in Potomac, MD; Salesforce Transit Center Park, a new 5.4-acre public park and botanical garden on the roof of a multimodal transit center in downtown San Francisco; Jewel Changi Airport, a 6-acre subtropical landscape garden in a state of the art glass conservatory; the Newport Beach Civic Center Park in Newport Beach, California; Constitution Gardens on the National Mall in Washington, DC; and Marina Bay Sands Integrated Resort, Singapore.
---
"THE FOODSCAPE REVOLUTION — MAINE EDITION"
BRIE ARTHUR
Monday, August 19, 4:00 pm
With over a decade of experience as a grower and propagator, Brie Arthur has fine-tuned the technique of foodscaping, a sustainable landscape practice that embraces beauty and bounty. Learn with her how pairing edibles in a traditional ornamental landscape increases biodiversity and adds purpose to everyday spaces. Focusing on plants that thrive in Maine, Arthur will explain how to layer hardy perennials and natives in with your favorite vegetables. She will demonstrate easy foodscaping, including how to plant a bed edge to deter browsing mammals. Her fast-paced, informative presentation will leave attendees inspired and ready to foodscape.
---
"ADAPTING TO CLIMATE CHANGE IN COASTAL COMMUNITIES"
ESPERANZA STANCIOFF
Monday, August 26, 4:00 pm
Esperanza Stancioff will explore the realities of Maine's changing climate, discussing current research, ways our climate might change in the future, and adaptations to those changes. She will focus on coastal and marine areas of concern, telling the story through participatory research and projects, as well as highlighting citizen science programs, including "Signs of the Seasons: A New England Phenology Program." Stancioff has worked at the University of Maine for thirty years designing and implementing applied research and educational programs for high-priority areas in marine and coastal ecosystems. She is a member of the Marine Extension Team, with University of Maine Cooperative Extension and Maine Sea Grant, and she currently serves as lead educator for both organizations in climate change adaptation.
---
"NATIVE PLANTS FOR NEW ENGLAND GARDENS"
MARK RICHARDSON
Monday, September 16, 4:00 pm
New England is home to thousands of native plants, and many of them are great choices for the garden. Join an informative discussion with Mark Richardson to learn about the importance of native plants in supporting ecosystems and how to choose the right ones for your particular piece of paradise. Richardson is Director of Horticulture for Tower Hill Botanic Garden in Boylston, MA. Prior to joining the staff at Tower Hill, he served as Botanic Garden Director for New England Wild Flower Society, where he oversaw Garden in the Woods and Nasami Farm native plant nursery. He has a passion for ecological horticulture and native plants, and he is co-author of Native Plants for New England Gardens (Globe Pequot, 2018), a handy guide to more than 100 native perennials, trees, shrubs, ferns, grasses, and vines.
---
---
2018 Programs
'MANAGING THE EUROPEAN RED ANT'
ELEANOR GRODEN
Wednesday, June 13th at 4:00 pm
Dr. Eleanor (Ellie) Groden is a Professor of Entomology in the School of Biology and Ecology at the University of Maine. Her work focuses on helping the people of Maine manage some of the most economically damaging insect pests.
Recently, she has been researching the invasive European red ant and working directly with communities in Maine to help them manage this pest. She will describe how to identify the red ant and distinguish this ant from other, native ants. Further, she will discuss impacts of these invasive ants and ways that you can manage them in your garden.
'THE BOTANICAL HAUNTS & HUNTS OF KATE FURBISH'
KAT STEFKO
Monday, July 23rd at 4:00 pm
Kate Furbish (1837-1934) lived in the same quiet area of Brunswick, Maine, for more than 90 years. And, yet, her life was anything but sedentary, or settled. This remarkable woman, a gifted botanist and artist, spent more than 40 years traveling the state of Maine, from the southern shoreline to the northern woods, and into the wilderness of Rangeley and beyond. More than 8,000 of her botanical samples survive, as does an extensive and impressive collection of more than 1,300 beautiful and skillfully rendered watercolor paintings of Maine's plants. Furbish gave her watercolors to Bowdoin College in 1908, and they remain today among the College's most treasured special collections. While Furbish traveled extensively, and seemingly exhaustively, she, like most botanists, had her favorite places to explore. Join Bowdoin College's Director of Special Collections, Kat Stefko, for a talk that retraces Furbish's steps to some of the places most near and dear to her heart, and explores the plants and wonders she found there.
Annual Lecture
'GOING NATIVE: USING NATIVE PERENNIALS, SHRUBS AND TREES IN THE GARDEN'
HEATHER MCCARGO
Saturday, August 4th at 4:00 pm
Gates Auditorium, College of the Atlantic, Bar Harbor
no admission fee
Heather McCargo is director of the Wild Seed Project and has years of experience growing and propagating native plants, including her time as head propagator in the 1990s at Garden in the Woods, the botanical garden of the New England Wild Flower Society. She will share her expertise in this presentation about gardening with native plants in a variety of different site conditions common in landscapes – sunny moist, sunny dry, shady, acidic woodland. Heather will recommend a diverse collection of plants for the home landscape, and talk about easy methods for native seed sowing. She will also discuss issues in the nursery trade with native plants and genetic diversity.
THE BEATRIX FARRAND SOCIETY ACHIEVEMENT AWARD & LECTURE
THOMAS WOLTZ
Monday, August 13th at 4:00 pm
Maine Seacoast Mission, 127 West Street, Bar Harbor
no admission fee
Thomas Woltz will receive the Beatrix Farrand Society Achievement Award this year. His lecture discussing his work is free and open to the public. Thomas Woltz has worked on many parks throughout the country, including helping to design areas of our beloved Coastal Maine Botanical Gardens. Other noted projects include the Naval Cemetery in Brooklyn and Centennial Park in Nashville. Woltz was instrumental in restoring the grounds at Olana in Hudson, New York; Frederic Church originally designed this space. Woltz focuses on improving ecology of landscapes to make them more functional for wildlife. He has received many honors for his work in the field, including being named a member of the Society of Landscape Architects' Council of Fellows.
'ISLAND HOPPING: LANDSCAPE DESIGN LESSONS FROM MANHATTAN TO MAINE'
PATRICK CULLINA
Wednesday, August 15th at 4:00 pm
Join Patrick Cullina for a review of his current work on site design and plant and material selection. He'll focus on his current projects in New York City, above Long Island Sound, on the North Fork of Long Island, and on a privately-owned island just south of Rockland, Maine.
'BEEKEEPING AS AN ART AND SCIENCE'
ROBERT SEARS
Monday, August 27th at 4:00 pm
Bob Sears is a passionate beekeeper who will discuss the trade of beekeeping and the importance of pollinators in gardens. He will also share information about the biology of the honeybee and how that is important for beekeeping. Gardens can serve as important habitats for pollinators; at Bob's talk, you will learn how to improve pollinator habitat in your garden. After the talk, explore our new pollinator garden at Garland Farm for more ideas you may implement at home.
'NATIVE PLANTS FOR NEW ENGLAND GARDENS'
MARK RICHARDSON
Monday, September 10th at 4:00 pm
Lecture & Book Signing
Native Plants for New England Gardens is a handy guide to more than 100 great native perennials, trees, shrubs, ferns, grasses, and vines. The book features practical information accompanied by beautiful color photographs. Join co-author Mark Richardson for this informative discussion about native plants and all their garden uses – from plants to use in place of mulch to those that attract and support pollinators.
2017 Programs
'Climate Change in Maine Forests'
Dr. Ivan J. Fernandez
Wednesday June 7th at 4:00 pm
In the Restored Barn at Garland Farm
Dr. Ivan Fernandez is a Distinguished Maine Professor at Climate Change Institute & School of Forest Resources at the University of Maine. He will speak at Garland Farm on the impacts of various environmental factors on climate change in forests. He has been working in this area in long-term research sites throughout Maine such as the Bear Brook Watershed, which was established in the 1980s.
The Jesup Memorial Library presents:
The Life & Gardens of BEATRIX FARRAND
a documentary film by
karyl evans
will screen on
Tuesday, June 27th at 7:00 pm
at the Jesup Memorial Library in Bar Harbor
Karyl Evans is a six time Emmy Award winning documentary filmmaker and a Yale Fellow. Her film is the first documentary ever produced about the life and gardens of Beatrix Farrand. In the film Karyl Evans interviews Beatrix Farrand scholars and uses never-before-seen archival materials and recent photographs of over 60 Beatrix Farrand related sites as well as narration to tell the compelling story of Beatrix Farrand's impressive 50 year career as a landscape architect. View the trailer at www.beatrixfarranddocumentary.com
'Climate Dynamics: Surprising Clues about the Future of Plants in Maine'
Dr. George Jacobson
Thursday July 27th at 4:00 pm
In the Restored Barn at Garland Farm
Professor Emeritus, Dr. George Jacobsen, is with the School of Biology and Ecology and the Climate Change Institute at the University of Maine. He served as the State Climatologist for several years. We look forward to hearing about how plants in Maine may help to predict climate change based on George's research with the Climate Change Institute.
Beatrix Farrand Society Special Annual Lecture
no admission fee
'Faith in a Seed, the Story of the Polly Hill Arboretum on Martha's Vineyard'
Tim Boland
Saturday August 5th at 4:00pm
In the Restored Barn at Garland Farm
Join Arboretum Executive Director, Tim Boland, as he shares the inspirational story of Polly Hill and her arboretum. Tim will share the origins of Polly's interest in plants and how her dedication to growing trees from seed led to the establishment of the arboretum in 1998. He will also share the challenges and opportunities of growing plants on Martha's Vineyard and how Polly's legacy is thriving today with programs centered on education, horticulture, plant exploration, and conservation.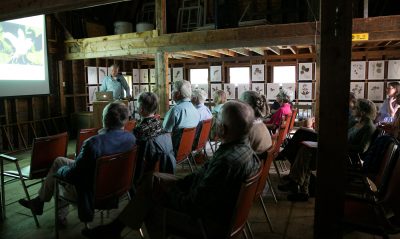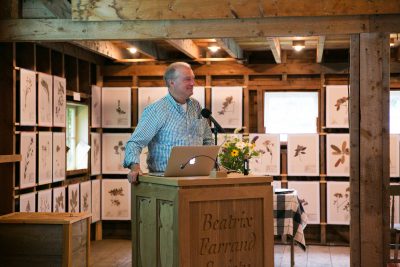 'The Asticou Collection'Mary RoperTuesday, August 15th at 4:00 pmIn the Restored Barn at Garland Farm
Rhododendrons and Azaleas from Beatrix Farrand's Reef Point estate provide the primary character of Asticou Azalea Garden, along with many unique and well-loved trees. The story of Asticou's creation and the many historic plants it contains, including the high elevation forms of azaleas and other surprising Farrand selections, will offer an afternoon of photos and discussion. With efforts underway to link the Farrand Herbaria with existing plants, ties to Reef Point grow ever stronger. Propagation efforts reveal unexpected characteristics in old cultivars and offer new forms and color as plants are grown from seed. Join us to explore the many adventures of Asticou!
'Chanticleer: A Pleasure Garden'
Eric Hsu
Friday August 18th at 4:00pm
In the restored barn at Garland Farm
Chanticleer Gardens, in Wayne, Pennsylvania, is an historic garden that was originally owned by the Rosengartens. Eric Hsu, the Plant Information Coordinator in the Plant Records with Chanticleer Garden will join us to share his perspectives on the gardens. The property contains a teacup garden, shade gardens, and a serpentine with cut flowers and vegetables that are used on site.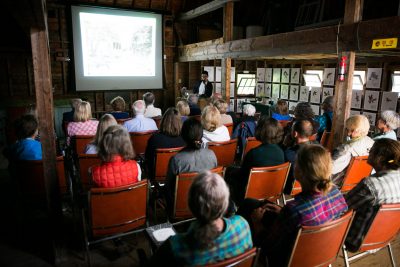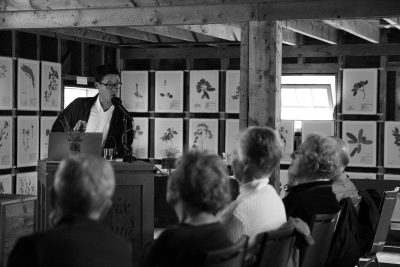 'Cultivating the Rainbow'
Kelly Norris
Thursday August 24th at 4:00pm
In the Restored Barn at Garland Farm
Kelly Norris, the Director of Horticulture at the Des Moines Botanical Garden, has been growing and working with bearded irises since he was a teenager. He owns Rainbow Iris Fam in Iowa, which is a large mail order nursery specializing in irises, and he recently wrote 'A Guide to Bearded Irises'. Please join us to learn more from Kelly about these fascinating and colorful plants.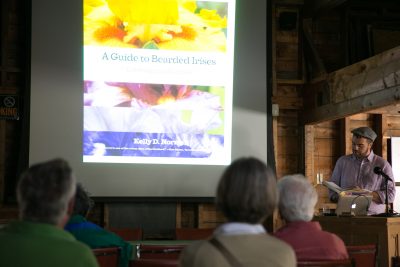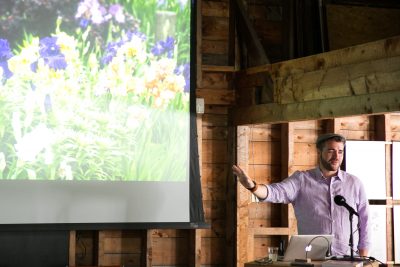 Beatrix Farrand Society Annual Award Lecture
Elizabeth Barlow Rogers
Thursday, August 31st at 4:00 pm
at the Seacoast Mission in Bar Harbor
We are pleased to announce that Elizabeth Barlow Rogers will be awarded the 2017 Beatrix Farrand Society Achievement Award. Ms. Barlow is a co-founder of the Central Park Conservancy where she played a lead role until 1996. The Conservancy successfully revitalized Central Park in New York City to be one of the most important parks in the world. Ms. Rogers and her husband co-own the C.L. Browning Ranch, an educational site, which is located in Johnson City, Texas. As an author, Ms. Barlow has contributed significantly to the development and enrichment of her field. Rogers is author of ten published books including, 'Frederick Law Olmstead's New York', 'Rebuilding Central Park: A Management and Restoration Plan', and 'Green Metropolis: The Extraordinary Landscape of New York City as Nature, History, and Landscape Design'. Ms. Barlow has received many honors including the LaGasse Medal from the American Society of Landscape Architects, the Gold Medal from the New York Botanical Garden, and the Jane Jacobs Medal for lifetime achievement from the Rockefeller Foundation.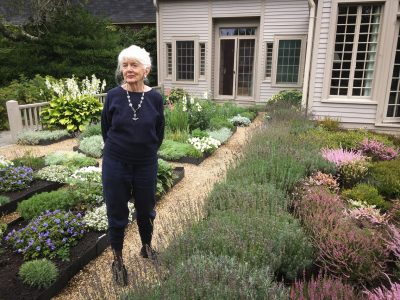 'The Natural Pitch Pine Gardens of Acadia'
Michael Day
September 14th at 4:00pm
In the restored barn at Garland Farm
Pitch Pines are a keystone species that determine the composition and structure of unique coastal rocky ledge plant communities at many sites on Mt. Desert Island. Dr. Mike Day, Associate Research Professor of Tree Physiology and Physiological Ecology with the School of Forest Resources at the University of Maine has been studying these trees for many years. He will share his thoughts and perspectives regarding this fascinating plant and the plant communities it supports.Become a member of the Beatrix Farrand Society
---
June 2016
Monday, June 13th at 4:00
Growing Vegetables in Container Gardens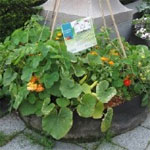 Dr. Mark Hutton from the University of Maine, Cooperative Extension, has spent his career breeding and growing vegetables. He works at Highmoor Farm in Monmouth, Maine, which has been an active farm for over a century. Join us as he shares his extensive knowledge of vegetables to describe the best varieties and practices for using these delicious edibles in small spaces.
July 2016
Monday July 18th at 4:00
Plant Exploring for the Arnold Arboretum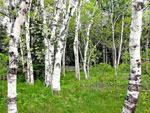 Please join us to learn about adventures in plant exploration. Dr. Michael Dosmann is visiting us from the Arnold Arboretum of Harvard University, where he is the Curator of Living Collections. His work at the Arnold Arboretum carries him all over the temperate world as he finds appropriate woody species to add to the Arboretum's diverse and impressive collection that is used for research, conservation, and educational purposes.
Tuesday July 26th at 4:00
Beatrix Farrand: At Home on Mount Desert Island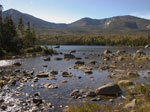 Roxanne Brouse will discuss her recently completed monograph describing Beatrix Farrand's work designing the historic carriage roads of Acadia National Park. Beatrix Farrand arrived on Mount Desert Island at seven years of age and spent the next eight decades on her "much loved Island." She absorbed its cultural and natural history, and used knowledge gleaned through keen observation to enhance both public and private landscapes. Her planting design for the carriage roadsides of Acadia National Park exemplifies her naturalistic approach. For her, it was a labor of love. The monograph, entitled, 'The Public-Spirited Beatrix Farrand of Mount Desert Island' is the first detailed guide to her work on the carriage roads.
August 2016
August 6th, 4:00 pm at College of the Atlantic, Gates Auditorium
World Premier of "The Life and Gardens of Beatrix Farrand" (32 minutes) by Karyl Evans, Karyl Evans Productions, North Haven, CT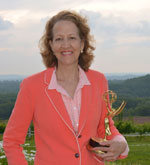 Five-time Emmy Award winning documentary filmmaker Karyl Evans's new documentary, "The Life and Gardens of Beatrix Farrand", chronicles Beatrix Farrand's impressive 50 year career as a landscape architect during the first half of the 20th century. With a degree in horticulture/ landscape architecture and a master's degree in filmmaking, Ms. Evans has combined her greatest interests to create this new documentary. The film covers over 20 sites across the country related to Farrand's life and work, as well as archival images and documents, as well as interviews with Farrand scholar Diana Balmori, landscape historian Judith Tankard, and landscape architect Shavaun Towers.
Some of the gardens explored in the film include Garland Farm and the Rockefeller Garden in Bar Harbor, Maine, Dumbarton Oaks in Washington D.C., and the East Garden at the White House. The film also explores the personal life of Beatrix Farrand, who was the niece of Edith Wharton, and who, at the age of 41, married Max Farrand, a professor at Yale University. The film is an impressive overview of Farrand's stunning gardens, her pioneering innovations on college campuses including Princeton and Yale University, and her ingenious design philosophy, which has stood the test of time. You can learn more about Karyl Evans at KarylEvansProductions.com. This program is free to all, but preregistration is required. To register, please e-mail programs@beatrixfarrandsociety.org (preferred), or call 207-581-2937.
August 14th at 4:00 pm
Plant Collecting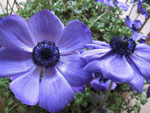 Dan Hinkley will discuss the where, how and why of plant exploration during his presentation. Months if not years go into the preparation of each trip; deciding where to travel to, learning in advance the species of plants that exist there and hiring guides. During the process, collection notes are meticulously recorded while each night, seed collections must be cleaned for ultimate inspection by the USDA. After sometimes months in the field, all seed are sent directly to the Agricultural Inspection Station. Yet then the real work begins- sowing the seed, successfully establishing them in a garden setting and then evaluating them for possible bio-invasiveness, before ultimately releasing them into the marketplace. This process will be illustrated using several different recent trips and the plants observed to drive the point home- plant exploration is a LOT of work.
August 24th at 4:00 pm
A View Inside Untermyer Gardens Conservancy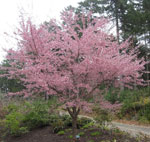 Timothy Tilghman is visiting us from Untermyer Gardens Conservancy in Yonkers, New York, where he works as the Head Gardener. Please join us to hear more about Mr. Tilghman's work and the lovely Untermyer Gardens Conservancy. Samuel Untermeyer purchased Greystone estate in 1899 and established gardens there in 1917. The Untermyer Gardens Conservancy, which began in 2011, are restoring gardens, which were largely neglected after Mr. Untermyer's death.
Due to illness this year's award lecture has been cancelled. Please join us for another program in August or September.
August 23rd , 5:00-7:00 pm at the Maine Seacoast Mission
Charles Jencks Beatrix Farrand Society Achievement Award
'In pursuit of Greater Meaning'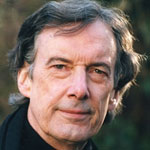 We are pleased to announce that Charles Jencks will receive the Beatrix Farrand Society Achievement Award this year. Renaissance man, Charles Jencks, has many claims to his international fame. His landform at his home in Dumfriesshire, 'The Garden of Cosmic Speculation' has become one of the most influential gardens in the world – and his latest work, the monumental Crawick Multiverse – just 30 minutes from Dumfries House – has been hailed as his late masterpiece. Andrew Marr has described him as 'one of the most ambitious and radical artists of our time'. He is also the man who invented the term 'post-modernism', which has changed the way we look at modern architecture; and who with his late wife Maggie Keswick, started Maggie's Centres designed by world renowned architects to offer solace and support for cancer patients at major hospitals.
Based on key books about his work, Jencks will be talking about his life, landforms, galaxies, Maggie and much more plus how architecture can change lives.
Issues first addressed in my writing, such as the public nature of iconic landmarks in the age of confused global culture, are later taken up in my landscape where I translate some of the fundamental elements of the cosmos into a communicative art. I argue that the units of the universe – its laws, atoms, black holes, DNA, and other essentials including its basic patterns – should be celebrated expressively, brought into public life (not "sit on their ass in a museum" as Pop Artists proclaimed in the 1960s). These natural and cosmic realities are virtually eternal and universal, and should become a fitting global iconography if we are up to the task.
This program is free to all, but preregistration is required. To register, please e-mail programs@beatrixfarrandsociety.org (preferred), or call 207-581-2937.
September 2016
September 9th at 4:00 pm
The World of Carnivorous Plants
Carnivorous plants are unusual, fascinating, and diverse. John Mark Courtney of Aquascapes Unlimited specializes in growing plants that grow in wet places, including carnivorous plants. He will talk about a variety of carnivorous plants. Visit the Aquascapes Unlimited website.