This summer on Mount Desert Island
Monday, June 29, 1–3PM
Workshop on Growing Alpine Plants and Heather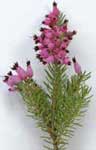 Join Harvey Wrightman and John Allan, from St. Andrews, New Brunswick, for a discussion about growing heather and alpine plants. Harvey will be sharing what he has learned about growing alpine plants in and for rock gardens for over thirty years while John will be speaking about his experiences in growing heather.  Advance registration is required and can be made by calling 207-288 0237 or emailing programs@beatrixfarrandsociety.org.
Thursdays, July 2 – September 10, 1-5PM
Open Days at Garland Farm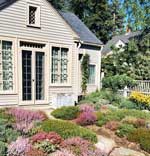 Please join us for informal tours of the house, library, and grounds. No reservations are necessary. All are welcome. A donation of $5 is suggested.
Sunday, July 5, 3-5PM
Grand Opening of the 2015 Herbarium Exhibition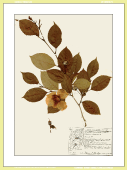 Thanks to the digitization project undertaken by the University of California at Berkeley with assistance from the BFS, Board President Scott Koniecko and curator Dr. Lois Berg Stack will mount a new exhibition for 2015 showcasing our growing collection of these images.The vouchers were originally prepared by Marion Ida Spaulding and Ken Beckett with specimens collected at Reef Point. This year's exhibit is planned to include trees, important elements in virtually every form of landscape planning, as evidenced by Beatrix Farrand's own work, both professionally and more personally at Reef Point and Garland Farm. We will also be celebrating Beatrix Farrand's birthday this day, so please join us for a piece of birthday cake! Advance registration is required and can be made by calling 207-288-0237 or emailing programs@beatrixfarrandsociety.org.
Monday, July 6, 1-3PM
The Art of the Garden
Artists have been inspired by gardens for centuries. In this lecture, Judy Taylor, a notedartist and teacher, will explore this topic and share paintings that were executed in or inspired by gardens.The presentation will feature the renaissance garden, the baroque garden and the botanic garden as interpreted by artists. Judy will set up visual and virtual easels in gardens in France, Italy, Canada, and other places around the world, to share the blended experience of the artist and the gardener. Judy's work is in many public and private collections including: Johns Hopkins University, the United States Park System, Friends of Acadia, the Jackson Laboratory, Colorado Mesa University, Long Island University and the Maine State Museum. Advance registration is required. The fee is included for those who register for the full three-day art class. See details below:
Tuesday and Wednesday, July 7 and 8, 10AM – 3PM  (class size of 10)
Sargent in the Garden: Interpreting a Masterpiece

This two day art workshop will go back in history to study a painting by John Singer Sargent, In the Garden, Corfu, with costumed models in the garden.  The first day's instruction, at Garland Farm, will consist of drawing from the Sargent painting, looking at composition and technique. This will be a tutorial geared toward beginner or professional.  There will be a break for lunch, which is included.The following day, the class will take place in an estate garden in Northeast Harbor, set up with a  costumed model to replicate the original Sargent painting, and to draw from life. A picnic and critique will take place at the end of the session.This art class coincides with the opening of the "Sargent and His Friends" exhibit at  New York's Metropolitan Museum of Art.The fee for all three days of the art class is $350, including the two lunches.  Pre-registration is required, with payment in full.  Please send check, payable to the Beatrix Farrand Society, with contact information, to Beatrix Farrand Society, P.O. Box 111, Mt. Desert, ME 04660.
Sunday, July 19, 10AM-4PM
Bar Harbor Garden Club Garden Tour
The Bar Harbor Garden Club will be hosting a Garden Tour, the theme being Island Gardens. Tickets are $25 on the day of tour or $20 if purchased in advance.  The event will be held rain or shine from.  It is requested that dogs and strollers be left at home.  In addition, the majority of Gardens are not wheelchair accessible.
Proceeds of the tour go to supported causes, such as Beatrix Farrand Society, Charlotte Rhodes Butterfly Garden, civic plantings, youth activities, Mt. Desert Land and Garden Preserve, Scholarships for high school and college students, Student Conservation Association, and Wild Gardens of Acadia.
Please visit the garden club's web site for information about purchasing tickets: www.barharborgardenclub.com

Saturday August 1, 9AM-12PM
Land & Garden Preserve presents ArtWorks!

Join us at the Asticou Inn the for fine art and craft exhibit and sale featuring original works of art created by 40 local artists who have been inspired by the beauty of the Preserve Gardens and the land and trails that surround them. Sales equally benefit the artists and the Preserve.
Saturday, August 1, 11-11:30AM
Beatrix Farrand Society Annual Meeting at Garland Farm
Saturday, August, 1, 12:30–2:30PM
Greenwood Gardens; rebirth of a private estate to a public space

This lecture, presented by Sofia Blanchard and Louis Bauer, will be given at the Gates Auditorium, College of the Atlantic. Mrs. Blanchard, and her husband Peter P. Blanchard III, created a nonprofit organization to own, restore and manage Greenwood Gardens, located in Short Hills, N.J., under the guidance of the Garden Conservancy. Mr. Bauer, currently Director of Horticulture at Wave Hill, was Director of Horticulture at Greenwood Gardens for ten years, beginning in 2003. Advance registration is required and can be made by calling 207-288 0237 or emailing programs@beatrixfarrandsociety.org .
Monday, August 3, 4-5:30PM
The New Shade Garden

Ken Druse, a celebrated lecturer, an award-winning photographer, and an author who has been called "the guru of natural gardening" by the New York Times, will be discussing his latest work, The New Shade Garden: Creating a Lush Oasis in the Age of Climate Change. Advance registration is required and can be made by calling 207-288 0237 or emailing programs@beatrixfarrandsociety.org .
Friday, August 14, 5PM
Land & Garden Preserve presents Fergus Garrett public lecture at COA

Fergus Garrett, Head Gardener for the internationally acclaimed Great Dixter Garden in Northiam, East Sussex in the UK since 1992, will give a public lecture titled Designing with Plants the Great Dixter Way on August 14th at College of the Atlantic in Bar Harbor, ME.  The lecture will focus on creative ways of combining plants using color, shape, texture, repetition and balance. The lecture, beginning at 5:00 pm in the Gates Auditorium is free, open to the public and jointly sponsored by the Land & Garden Preserve, College of the Atlantic, and the Coastal Maine Botanical Garden (CMBG).  A public lecture at CMBG titled Great Dixter House and Garden – A Historic Paradise in the 21st Century will be held onAugust 12th. 
The Great Dixter House and garden, located in Northiam, East Sussex, in the south of England, was the home of gardener and gardening writer Christopher Lloyd (1921-2006), and is currently under the stewardship of Mr. Garrett, Mr. Lloyd's longtime head gardener, and the Great Dixter Charitable Trust. Mr. Garrett was raised in the United Kingdom and Turkey and studied horticulture at Wye College, graduating in 1989. He is the recipient of many horticultural awards and honors.
Saturday, August 15, 5-7:00PM
Beatrix Farrand Society's Achievement Award and Lecture

The Beatrix Farrand Society will be inaugurating it's annual Achievement Lecture series this summer at the Maine Seacoast Mission. Free to the public, the lecture will recognize an individual for his or her significant contribution to humanity and the environment through the art of landscape architecture, design or the natural sciences. In 2015, the honoree and lecturer will be Laurie Olin, founding partner of the landscape architecture and urban design firm OLIN. Both a teacher and a landscape architect, he became a 1999 Fellow of the American Society of Landscape Architects, and has been the recipient of numerous awards including in 2013 the National Medal of the Arts and Thomas Jefferson Foundation Medal in Architecture. Advance registration is required and can be made by calling 207-288 0237 or emailing programs@beatrixfarrandsociety.org.
Monday, August 24, 4-5:30PM
Shopping for Eden:Gathering Perspective on (the Pursuit of) Plants and Gardens

Patrick Cullina, a horticulturist, landscape designer and consultant, will offer a colorful exploration of meaningful plant acquisition and the factors which contribute to their successful integration into compelling landscapes. Included will be an assessment of the horticultural marketplace and observations on the contrast between novelty and enduring value.
Patrick previously served as the V.P. of Horticulture & Park Operations for New York City's High Line and as V.P. of Horticulture, Operations and Science Research at Brooklyn Botanic Garden. A passionate plantsman and popular lecturer, his current practice encompasses a wide range of municipal, commercial and private projects and clients. His commitment to horticulture has garnered him substantial recognition, including the Garden Club of New Jersey's Gold Medal in 2005 and the Garden Club of America's Zone Horticulture Commendation in 2010. Advance registration is required and can be made by calling 207-288 0237 or emailing programs@beatrixfarrandsociety.org.
Wednesday, September 9, 4-5:30PM
Welcome Bees to Your Garden!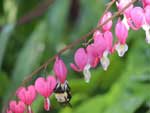 Maine is home to more than 250 species of bees. Dr. Lois Berg Stack, Extension Specialist, Ornamental Horticulture, and Professor, Sustainable Agriculture, University of Maine, will speak on a topic of interest and concern to gardeners in Maine and across the country: how to encourage bees in the garden.  To entice bees to visit your garden, discover which plants provide superior forage, know how shallow water is important, and see how bees nest in a variety of ways.  Learn how to incorporate these resources into your garden, to make it a place that both you and the bees will enjoy. Advance registration is required and can be made by calling 207-288 0237 or emailing programs@beatrixfarrandsociety.org.
Friday-Sunday, September 18 – 20
Reel Pizza Film Festival
Please join us at Reel Pizza for a screening of the film Jens Jensen: The Living Green. Mr. Jensen (1860 -1951) was a Danish-American landscape architect. Film director Carey Lundin, refers to him as "an unsung american hero", noting that he worked his way up from a street sweeper in the 1890s to become a champion of conservation and "dean of landscape architects" according to the New York Times.

Directions to Garland Farm
GPS Address:
475 Bay View Drive
Bar Harbor, ME 04609
+44° 25′ 43.81″, -68° 19′ 25.22″
Garland Farm is located on Route 3 on Mount Desert Island. From the island bridge, go east toward Bar Harbor for approximately 2 miles and turn left on Bay View Drive. Turn left into the parking area in the field and follow footpath to barn.
From downtown Bar Harbor, go north on Route 3 passing Hadley Point Road (about 7 miles). Continue .7 miles, turn right on Bay View Drive, then left into the parking area. Do not park on Bay View Drive.
Accessible parking is available with advance notice. Please call 207-288-0237.