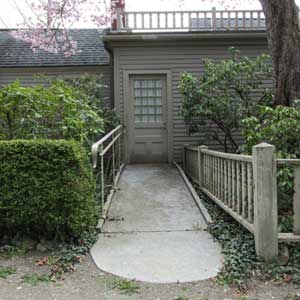 Parking:  The parking lot for Garland Farm is a grassy field approximately 200 feet from the house on Bay View Drive (see directions page). For people who have limited mobility there are several areas by the house/barn to park cars.  Call ahead to make sure there is adequate space available and ask for someone to direct you where to park on the day of your visit.  (207-288-0237)
The Beatrix Farrand Wing:  The front portion of the house is a private residence. The Beatrix Farrand wing is behind the residence.  There are two entrances at the front of the wing. The front door is accessed via a narrow walkway of paved cement blocks. There are two steps up to the porch.  Approximately 20 feet to the left of the front door is a short cement ramp with handrails that leads into the office and hallway which connects to the Farrand wing, including the library and exhibit areas. Doors at the rear of the rooms lead to the terrace garden via two steps.
The Barn-Education Center:  Programs and special exhibits are held in the barn during the summer and fall.  The front entrance is accessed via an outside ramp.  The side door entrance is accessed via a hard-packed gravel walkway on the left side of the barn.  An inside ramp leads to the main floor of the barn.  Movable chairs are in the seating area.
The Terrace Garden: The hard-packed gravel walkway between the Farrand wing and the barn leads to the terrace garden.  The historic garden has narrow loose gravel paths.  The best viewing for wheelchair users is along the fence surrounding the garden or from one of the interior rooms in the wing.  There are exhibits inside the wing illustrating the terrace garden rehabilitation project.
The library at Garland Farm: The library is part of the house tours on Open Days. However, use of the library's collections is by appointment only, generally from May through October. Library materials do not circulate. For more information about the collection or to make an appointment email us library@beatrixfarrandsociety.org.
Restroom:  There are two restrooms in the wing.  The one closest to the ramped entrance of the wing is ADA compliant.
Informational handouts are located in the foyer about Beatrix Farrand, Garland Farm and upcoming programs.
Other outside areas of the property consist of uneven grassy ground.