The 2023 season has now concluded.
We hope you had a chance to visit Garland Farm on an Open Day,
or enjoyed one of the lectures or workshops we offered this year.
---
Looking forward to seeing you in 2024.
---
2023 Programs and Events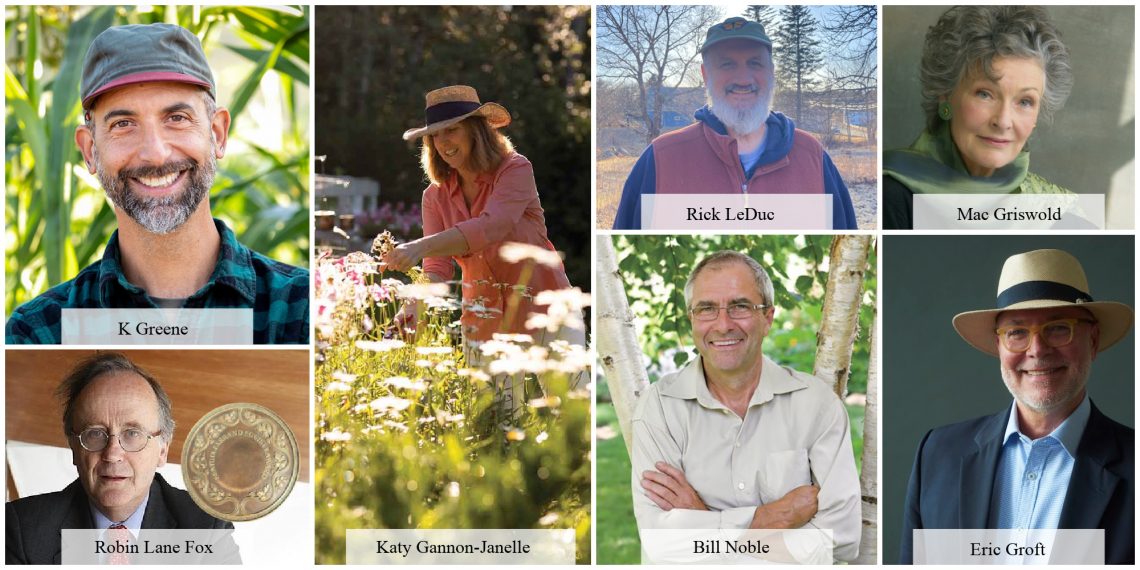 ---
Pollinators at Thuya Garden
Rick LeDuc, Land & Garden Preserve
Tuesday, June 27 at 4:00 p.m. — PRE-REGISTRATION NOW CLOSED.
Garland Farm
$10 members / $20 non-members / free for students
People typically think of "pollinators" as bees and butterflies, but in this talk by Rick LeDuc, Thuya Garden Manager, a wider array of insects will be considered, not only for the crucial parts they play in pollinating, but also their other vital roles in the ecosystem. In addition to providing pollinators with lots of flowers, LeDuc employs numerous other gardening practices to help them survive as pollinator populations continue to decline.

---
I'll Build a Stairway to Paradise: A Life of Bunny Mellon
Mac Griswold
Wednesday, July 19 at 2:00pm — PRE-REGISTRATION NOW CLOSED.
Garland Farm
$10 members / $20 non-members / free for students
Book signing to follow program.

Mac Griswold, a journalist and acclaimed cultural landscape historian, has been writing about gardens since 1987, producing books and articles that explore the secrets of landscapes and gardens. "Gardens never lie," she says, "they always tell you something about their makers and their times." Rooted in Bunny Mellon's gardens and her collections of garden books and works of art, Griswold's biography offers an unparalleled portrait of a complex and private person whom Mac knew as a friend.

---
Botanical Watercolors, a workshop
Katy Gannon-Janelle
Tuesday, July 25 from 10:00am – 3:00pm — PRE-REGISTRATION NOW CLOSED.
Garland Farm
$150 per person includes all supplies and lunch.

Katy Gannon-Janelle is a Master Gardener and botanical illustrator who earned a Certificate of Botanical Arts from Coastal Maine Botanical Gardens (CMBG) in 2019. From June thru November, 2020, CMBG hosted a solo exhibit of Katy's botanical art, the only show ever given to a graduate. Her illustration was featured on the cover of the Spring 2021 issue of Roots, the Journal of the Historic Iris Preservation Society. Her own garden was featured in DownEast Magazine and Maine Homes in the August 2021 issues, with the description in Maine Homes reading, "A colorful Falmouth garden benefits from an artist's eye". Participants will learn about botanical illustration and will draw a flower of their choice from Garland Farm's garden. Please note, class size is limited. Zoom is not available for this workshop.
---
The Beatrix Farrand Society Annual Lecture
Spirit of Place: The Making of New England Garden, Inspiration and Practice
Bill Noble
Saturday, August 5 at 4:00pm — PRE-REGISTRATION NOW CLOSED.
Holy Family Chapel, Seal Harbor
Free admission
For thirty years Bill Noble has worked as a garden designer and professional in garden preservation. Noble will explore the pleasures and challenges—both aesthetic and practical—of creating his own garden, one that feels deeply rooted to place. Noble's garden is included in the Smithsonian Institution's Archive of American Gardens and has been featured in Martha Stewart Living, House & Garden, The New York Times, Washington Post and the Garden Conservancy's Outstanding American Gardens.

---
The 2023 Beatrix Farrand Society Achievement Award and Lecture: Robin Lane Fox
Wednesday, August 16 at 4:00pm — PRE-REGISTRATION NOW CLOSED.
Holy Family Chapel, Seal Harbor
Free admission
Gardening writer, historian, and English classicist Robin Lane Fox has been the gardening columnist for Financial Times since 1970. He has authored Thoughtful Gardening; Variations on a Garden; The Classical World; The Invention of Medicine; and more. Lane Fox is an Emeritus Fellow and currently oversees the grounds at New College, Oxford.
---
Beyond Bold: Inspiration, Collaboration, Evolution
Eric Groft
Tuesday, August 22 at 4:00pm — PRE-REGISTRATION NOW CLOSED.
Garland Farm
$10 members / $20 non-members / free for students
Book signing to follow program.
Groft is one of the principals of Oehme, van Sweden, a landscape architecture firm that has been creating extraordinary outdoor spaces for nearly fifty years, from the expansive Tippet Rise Art Center in rural Montana to urban oases like the Chicago and New York Botanical Gardens. Among an impressive list of commissions and projects, Groft's federal work includes the 2020 renovation of the White House Rose Garden, which today features universal accessibility, critical upgrades to irrigation and drainage, and state-of-the-art electrical infrastructure for lighting and media technology. An expanded palette includes 200 additional rose bushes and a diverse selection of perennials.
PRE-REGISTRATION NOW CLOSED.
---
The Art of the Seed
K Greene, Hudson Valley Seed Company
Saturday, September 16 at 1:00pm
Garland Farm
$10 members / $20 non-members / free for students
Due to the Hurricane Lee weather forecast for Saturday, we must cancel this program.

Hudson Valley Seed Company is known not only for their beautiful seeds, but also for their wonderful packaging. Each year, the company commissions contemporary artists from around the United States to tell the story of a particular seed variety. That art and those seeds combine to create an Art Pack, a unique celebration of the diverse stories of seeds and their stewards. Greene, creative director and company co-founder, will discuss the artistic value of seeds, plants, and the stories surrounding them. A full display of seeds from Hudson Valley will be available for sale after the talk.
---

Directions to Garland Farm
GPS Address:
475 Bay View Drive
Bar Harbor, ME 04609
+44° 25′ 43.81″, -68° 19′ 25.22″
Garland Farm is located on Route 3 on Mount Desert Island. From the island bridge, go east toward Bar Harbor for approximately 2 miles and turn left on Bay View Drive. Turn left into the parking area in the field and follow footpath to barn.
From downtown Bar Harbor, go north on Route 3 passing Hadley Point Road (about 7 miles). Continue .7 miles, turn right on Bay View Drive, then left into the parking area. Do not park on Bay View Drive.
Accessible parking is available with advance notice. Please call 207-288-0237.