Below is additional information or links to reference material provided by some of our guest speakers as a follow-up to their presentation.
2015
Programs
Wednesday, September 9
Welcome Bees to Your Garden!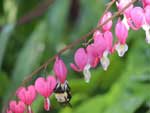 Maine is home to more than 250 species of bees! Dr. Lois Berg Stack, Extension Specialist, Ornamental Horticulture, and Professor, Sustainable Agriculture, University of Maine, gave an excellent presentation on how to encourage bees in the garden. View and download a copy of How to Create a Bee-Friendly Landscape from the University of Maine Cooperative Extension website at http://umaine.edu/gardening/master-gardeners/manual/ecology/how-to-create-a-bee-friendly-landscape/. Includes great information, tips and additional resources links.
June 28th Workshop on Growing Alpine Plants and Heather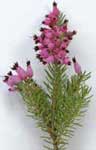 Harvey Wrightman and John Allan from St. Andrews, New Brunswick, discussed growing heather and alpine plants. For more information on contacts and nurseries view the Northeast Heather Society's website contact page.
View their entire website here.
---
2014
Programs
Monday, September 8, 1-3PM
Mosses for Your Garden

Dr. Alison C. Dibble, a research scientist at the University of Maine, presented a wonderful program on mosses. View a list of resources she provided for those interested in learning more about mosses.

Monday, July 14
Nature Sketching and Botanical Illustration with the Reef Point Herbarium
Botanical and nature artist, Carrie Graham presented a variety of nature sketching techniques and suggested resources to start a nature sketchbook. View resource list Carrie discussed at the workshop.

Monday, July 7
What Is Happening to Bats on Mount Desert Island?

Bruce Connery, Acadia National Park biologist, explained how an introduced fungus in North America has caused severe decline in the bat population across eastern North America, and in Maine in particular. The links below address information related to bats as well as their recovery on Mount Desert Island and across the country. 
Bat Conservation International Check out the "what we do" and "bats & people" links…these will answer many questions.
Bat Conservation and Management Inc
White-Nose Syndrome.org The entire weblink has information, but a good starting place is found in "WNS Info"
https://www.maine.gov/ifw/wildlife/human/lww_information/bats.html#skip_sliver Good Maine site, although some information is generic.  A very good information on keeping bats out of structures, bat houses, etc.