Check back periodically for news updates from The Beatrix Farrand Society. PDF flies require Adobe Reader.  Get the free Adobe Reader below in footer.
2016
Spring – Read Beatrix Farrand's article, "The National Park on Mt. Desert Island," Scribner's Magazine, April 1917: 61, 484–94
2015
Wednesdy, August 15, 5 – 7 PM
Annual Lifetime Achievement Award and Lecture
 Sunday, July 5, 3-5PM
Grand Opening of the 2015 Herbarium Exhibition
Thursdays, July 2 – September 10, 1-5PM
Open Days at Garland Farm
Monday, June 29,  1 – 3 p.m., Garland Farm
Workshop on Growing Alpine Plants and Heather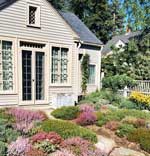 The Beatrix Farrand Society is offering its first program of the 2015 season on June 29, a workshop at Garland Farm by two noted growers of alpine plants and heathers from St. Andrews, New Brunswick.   Harvey Wrightman, owner of Wrightman's Alpine Nursery, will be sharing what he has learned about growing alpine plants in and for rock gardens for over thirty years, while John Allan, a heather grower by avocation, will discuss his experiences growing heather in his native Scotland, in Newfoundland, Nova Scotia, and at his present home in New Brunswick.  They will have plants available for purchase – good native stock grown in this climate.
Please see the Beatrix Farrand Society website for directions and full details.  The website has a link to the plants that may be pre-ordered to buy at the workshop.  A raffle will be held at the workshop for a plant donated by each of the growers.  Advance registration is required: 207-288-0237 or programs@beatrixfarrandsociety.org
---
2014
Garland Farm in Words and Pictures
Friday, Sept. 12, at 7 p.m Jesup Memorial Library,  Bar Harbor 
A rare insider's look at the Mount Desert Island legacy of renowned landscape architect Beatrix Farrand. Jim and Emily Fuchs and Beatrix Farrand Society archivist Marti Harmon will share a talk and slideshow on Garland Farm, the last home and garden of Ms. Farrand, who lived there from 1955 until her death in 1959.  Read More…
"Summer Exhibition of Beatrix Farrand's Herbarium: Rhododendrons and Their Relatives"

2013
"Preserving Beatrix Farrand's Gardens" Seminar", College of The Atlantic July 27, 2013
"Reef Point Herbarium Exhibition" – June 29-September 14

2012
"One Writer's Garden: Eudora Welty's Home Place" Lecture by Jane Roy Brown – Wednesday, August 15
"Gertrude Jekyll and the Country House Garden"  Lecture by Judith B. Tankard – Saturday, August 4
"Gardens of the Jazz Age" Lecture by Jenny Rose Carey – Thursday, July 26
"Mr. Rockefeller's Roads" Lecture by Ann Rockefeller Roberts Wednesday, July 18 – 6:00 PM. At Northeast Harbor Library
"Stone in the Garden" Lecture by Gordon Hayward – Monday, July 2
"Satterlee Garden at Great Head" Exhibition
"Open Days at Garland Farm" Thursdays 1:00 – 5:00 PM. June 21 – September 13
"Unraveling and Re-raveling the Web of Life" Lecture by Bill Cullina – June 9
"Raspberries and Blackberries in Maine" Workshop by Dr. David Handley – May 8
"Lost Garden of Beatrix Farrand" BFS Acquires Painting – January 17  

2011
"Random Ramblings of a Gardener" September 7 Sold Out
"Dynamic Landscapes: New York's High Line and Beyond" August 24
"Robert W. Patterson Symposium" August 13
"The Rockefeller Family Gardens" Lecture by Paula Deitz – August 6
"Robert Patterson Exhibition at Garland Farm" July 6 through September 5
"Bringing Nature Home" Lecture by Dr. Douglas Tallamy – July 12